M. Y. Trading Co.
Authorized Distributor Of Graco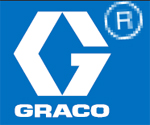 We are Distributor of Graco Electrical Airless Paint Sprayers, Airless Paint Sprayers, Airless Sprayer, Graco Paint Sprayers, and our set up is situated in Pune, Maharashtra, India.
Graco Airless Electrical Sprayer
Electrical Airless Paint Sprayers, Petrol Operated Airless Paint Sprayers, Texture / Putty / Waterproofing, Fine Finish Paint Sprayers : Pressure Washers, Line Lazer - Line Marking Machines, Express Series Entry Level Sprayers : Aiming the Spray Pattern, Overlapping Technique, Airless Spray Tips
Airless Spray Painting Machine Products : Our product of Graco is one of the best and topnotch leading industries in painting by using our different types of machines with expert painters. Whether you want to paint your bedroom, furniture or any other things in your house, the paint sprayer make your job simple and easier. You may complete these tasks faster and more efficient. Since these spray machine may covers a huge area easily and quickly and they are known to be faster in operation. The special thing about paint sprayers is that they are capable to cover any surfaces and they can easily get into the reach the place. By our products, it is possible to paint even at tight corners easily. Apart from all those factors and benefits, the customers should consider the type of sprayer the inclusion of filter is, simplicity of use, simple to clean, the machine which is used to paint can be adjustable, have the effects of long durability, high-mobility. This Graco product offers the best quality spray machine to paint any appliances and furniture, etc.